ClogKingdom.com is an authorized retailer of Sanita Clogs since 1996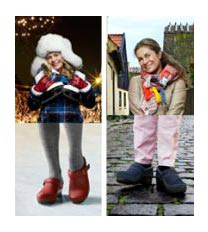 Sanita

For Sanita®, the Danish word "hygge" (pronounced hue-guh)is a apparent in the construction of each and every pair of Sanita clogs. Loosely translated, "hygge" means "making everything cozy". Sanita has been making cozy, comfortable clogs the Danish way since 1907. In fact, Sanita's founder, Christen anderson, not only created the first pair by hand, he also created their first distribution system: the basket of his bicycle. The European tradition of craftsmanship and caring, "hygge" lives on in every clog, sandal and boot Sanita makes and today, Sanita Clogs continue to be handcrafted with love and care in Europe.
Please click this link and enjoy a little history about Sanita Clogs. http://www.sanitaclogs.com/aboutus/history
For Clog Lovers Only! This year Sanita has wowed us with a huge variety of closed and open back clogs in a wide variety of textures and colors, From the Graphic Fur Clog from Sanita's Original collection to the Woolly Plaid Tilly clog, Sanita surely has a clog that will satisfy any clog wearer! For Marcelle clog lovers, check out the Dorthe and Dorthe Dea Clog, and for you traditional clog wearers, the Sanita Professional Clog in Oiled Box, and Patent Leathers. Sanita continues it tradition of providing unbeatable comfort for hard-working feet in the tradition of European hand-made workmanship.